Home
/
Drink Mix
/
Berry Well | Blue Spirulina Superfood Drink Mix | Blue Butterfly Pea | Maca | 21 Servings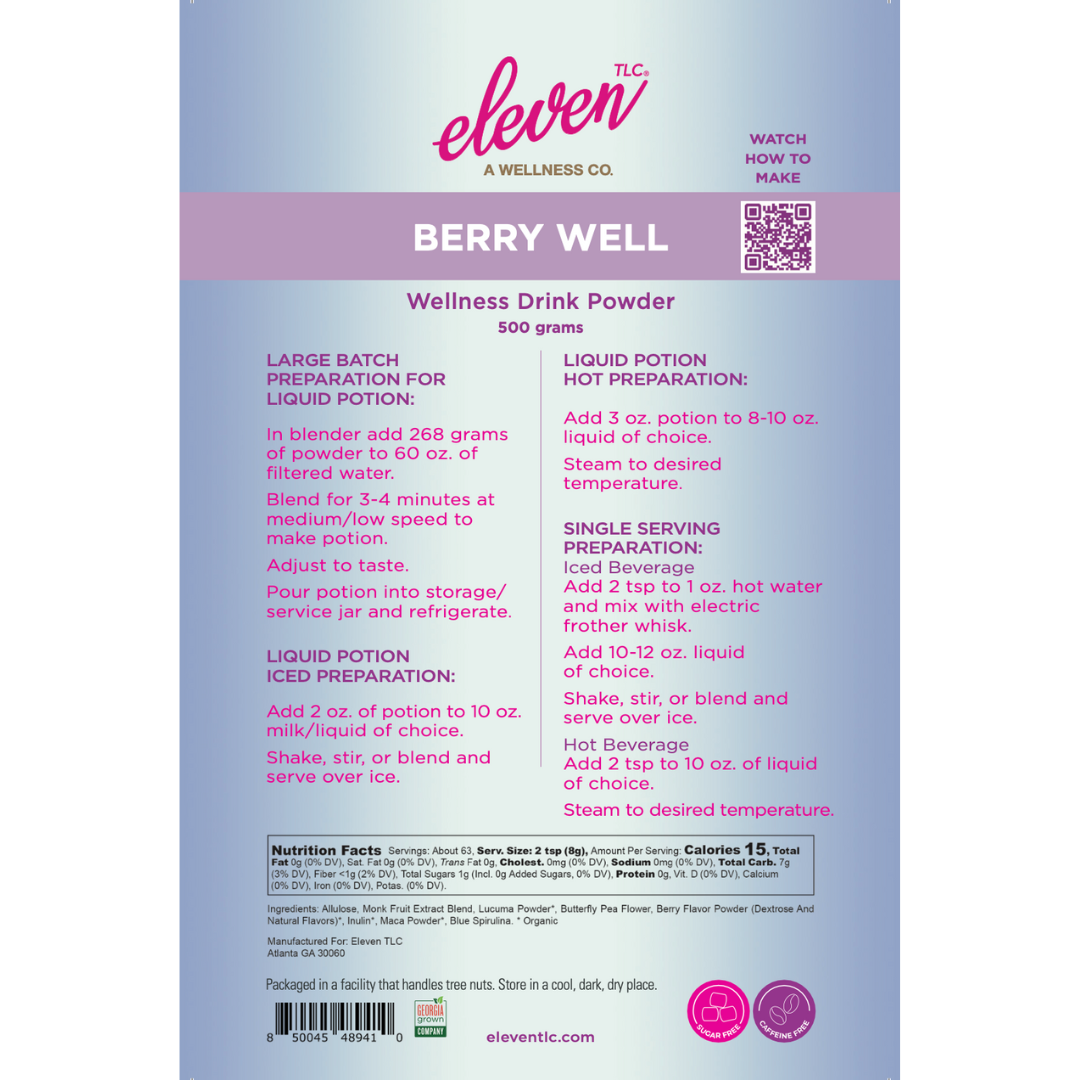 Berry Well | Blue Spirulina Superfood Drink Mix | Blue Butterfly Pea | Maca | 21 Servings
In stock
Description
WELLNESS SUPERFOOD BLEND: Anti-aging,  Revitalize & Sustain
Seeking a caffeine-free fountain of vitality without those pesky energy drops? Welcome to our Wellness Support Blend. A carefully crafted concoction of adaptogens, superfoods, and botanicals, it delivers not just a spirited lift, but also a dance of flavors and a gentle embrace for your nervous system.
DISTINCTIVE QUALITIES:
Beyond its vegan, dairy-free, gluten-free, and keto-friendly credentials, our blend boasts an absence of artificial additives, colors, or flavors. Zero refined sugars here. Instead, it brings forth a flavor that speaks of summer - I taste like a summer blueberry, intertwined with the rich creaminess reminiscent of melting blueberry ice cream.
Blend the Wellness Support into a latte that warms the soul or elevate your smoothies, desserts, or coffee with its unique touch.
HOW TO ENJOY:
Stir in 2 tsp into 8 oz of your favorite plant-based milk or drink of choice, and let the magic unfold.
SUPERFOODS SPOTLIGHT:
Butterfly Pea Powder: An oasis for the stressed, offering tranquility.

Blue Spirulina: Defies age and bursts with nutrients.

Maca: Jumpstarts energy and brings hormonal harmony.

Inulin: A champion of digestion, with its prebiotic prowess.
Surrender to the twin delights of wellness and taste with our Wellness Support Blend. A comprehensive nod to your mind, body, and sophisticated palate!
168 Grams  | 21 Servings | Jar
500 Grams | 62 Servings | Resealable Bag
WHAT'S IN ME: Monk Fruit Extract, Erythritol, Organic Lucuma Powder, Natural Flavor, Butterfly Pea Powder Flower, Organic Inulin, Organic Maca Powder, 100% Blue Spirulina