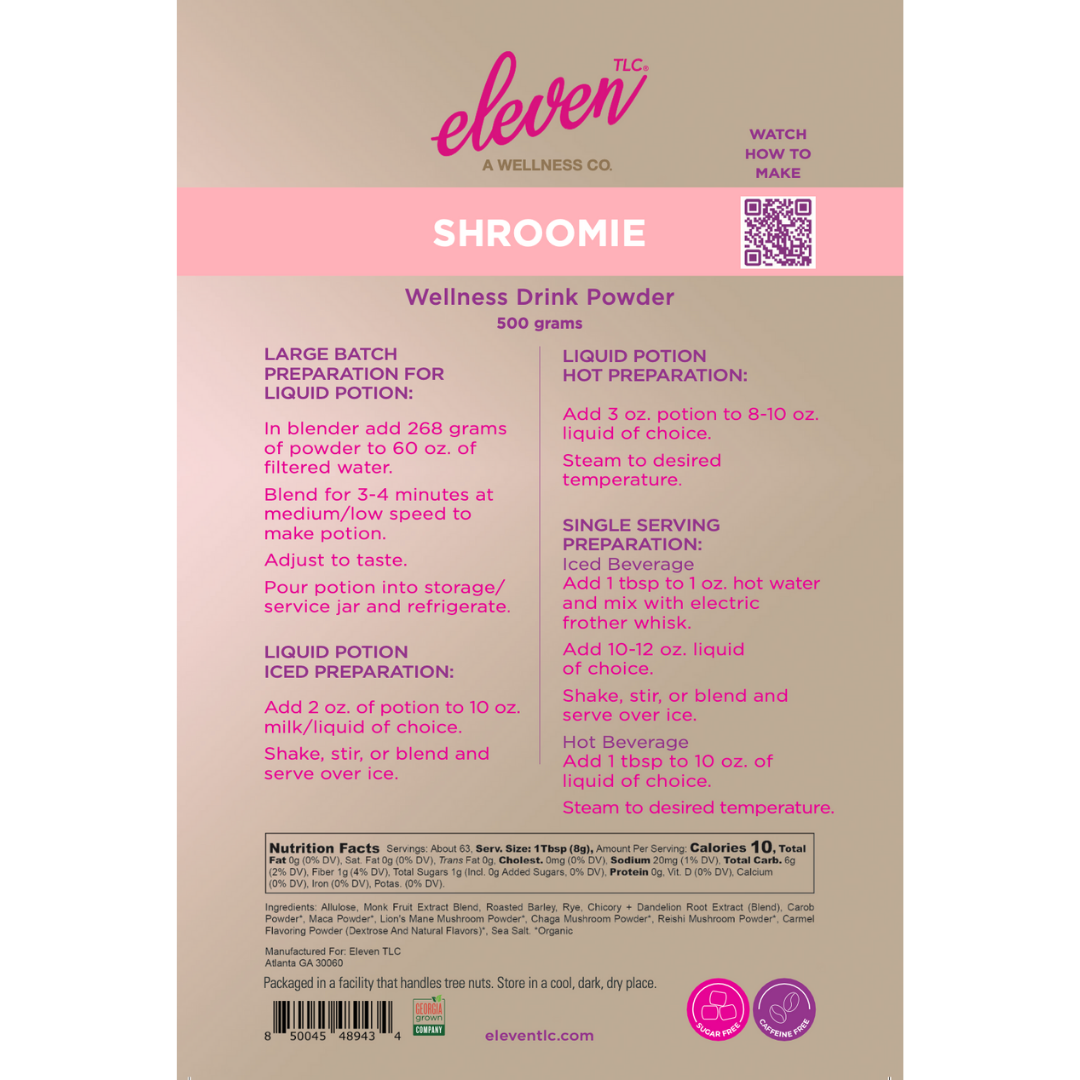 Shroomie | Mushroom Coffee Alternative | Caffeine Free Energy + Benefits
In stock
Description
MUSHROOM COFFEE ALTERNATIVE: Adaptogen & Superfood Infused
Step into a world of caffeine-free invigoration with a flavor reminiscent of light hazelnut, culminating in a delicate caramel finish. Trade your caffeine downfalls for our adaptogenic synergy of mushrooms, premium superfoods, and potent botanicals.
IMMERSE IN THE BLEND:
A brew that's staunchly vegan, dairy-free, gluten-free, and in tune with keto guidelines. Free of artificial colors, preservatives, and flavors — and sans any refined sugars.
ADAPTOGEN + SUPERFOOD SPOTLIGHT:
Maca: A revered superfood that boosts energy and ensures hormonal balance.

Chaga Mushroom: Anti-aging sentinel that protects and rejuvenates.

Reishi: Stress alleviator and hormone balancer for holistic wellness.

Roasted Dandelion Root: A guardian against inflammation and erratic blood sugar levels.

Lion's Mane Mushroom: Your cognitive ally, enhancing brain function.

Roasted Barley: A powerhouse of digestive health with its rich dietary fiber. It aids in blood sugar regulation, heart health, and offers a feeling of satiety with its robust antioxidants.

Chicory: A champion for gut health, it's a prebiotic that boosts beneficial bacteria, supports liver function, aids in blood sugar management, and has potent anti-inflammatory properties.
186 Grams | 21 Servings
500 Grams | 62.5 Servings
Transform your drinks — make it a latte, infuse into smoothies, or fold into desserts or coffee for a notch of vitality.
PERFECT YOUR BREW: Combine 2 tsp (8.4g per serving) with 8oz of your favored milk. Sip it as a latte, whisk into smoothies, desserts, or coffee for that elevating touch.
INSIDE THE JAR: ERYTHRITOL AND MONK FRUIT EXTRACT (BLEND), ROASTED BARLEY, RYE, CHICORY + DANDELION ROOT EXTRACT (BLEND), CAROB POWDER*, MACA POWDER*, CHAGA MUSHROOM POWDER*, LION'S MANE MUSHROOM POWDER*, REISHI MUSHROOM POWDER*, CARAMEL FLAVORING POWDER (DEXTROSE AND NATURAL FLAVORS)*, SEA SALT. *CERTIFIED ORGANIC